Name:
SIA "SINTEC EUROPE"
The company SIA "SINTEC EUROPE" was established in 2008 and specializes in providing services in the field of mechanical installation of various engineering systems and technological equipment of industrial enterprises.
The previous office of the company was outdated, and the company moved to a newly completed building at 68. Kārļa Ulmaņa Gatve Avenue, in Riga. The company decided to upgrade all outdated equipment and it was decided to install new systems in the new office that correspond to modern trends in the field of security. The physical space is also much larger than at the previous site, and will now include administrative offices, production warehouses including training areas, management offices, a video conference room and other facilities. SINTEC EU recognized the need for a relatively future-proof technology platform with integration of video surveillance and access control where possible to improve health and safety, operational efficiency and enhance usability.
Mission:
SINTEC EU engaged SFERA GROUP, SIA not only to install the network infrastructure, but also to develop and deploy a comprehensive solution to provide a security solution. The solution adopted had to satisfy modern architecture in terms of building, deployment and scalability.
Solution:
Video surveillance with Hikvision's intercom and access control integration capabilities, including network cameras, DS-K2604T network door controllers and 2nd generation IP Video Intercom System video doorphones. SFERA GROUP has extensive experience in using integrated HIKVISION solutions and decided to deploy the iVMS-4200 software platform for the management and use of cameras and access control, which will also be integrated with video-doorphone communication to control the passage / passage of visitors and services. Anti-burglary and DSC alarm system. Camera models deployed on site include both fixed network cameras and PTZ cameras.
Equipment:
- Access control:
HIKVISION controllers and readers;
- Video surveillance system:
Recorder and IP cameras Hikvision
- Burglar alarm system
DSC PowerSeries Neo
Result:
The territory, office and warehouse premises are equipped with an access control system, controllers and biometric readers from HIKVISION, this ensures that authorized personnel will have access according to the set tasks (access is made by fingerprint, if necessary, by cards that can also be used). The access control system has a network structure, which allows you to monitor each access point online, so that the company's management always knows the exact number of employees in each production area. For an additional level of control, a video surveillance camera is installed around the entire perimeter, as well as at each access point. Thanks to the implemented system of control and time recording, the company's management can calculate the work time of each employee for any period of time.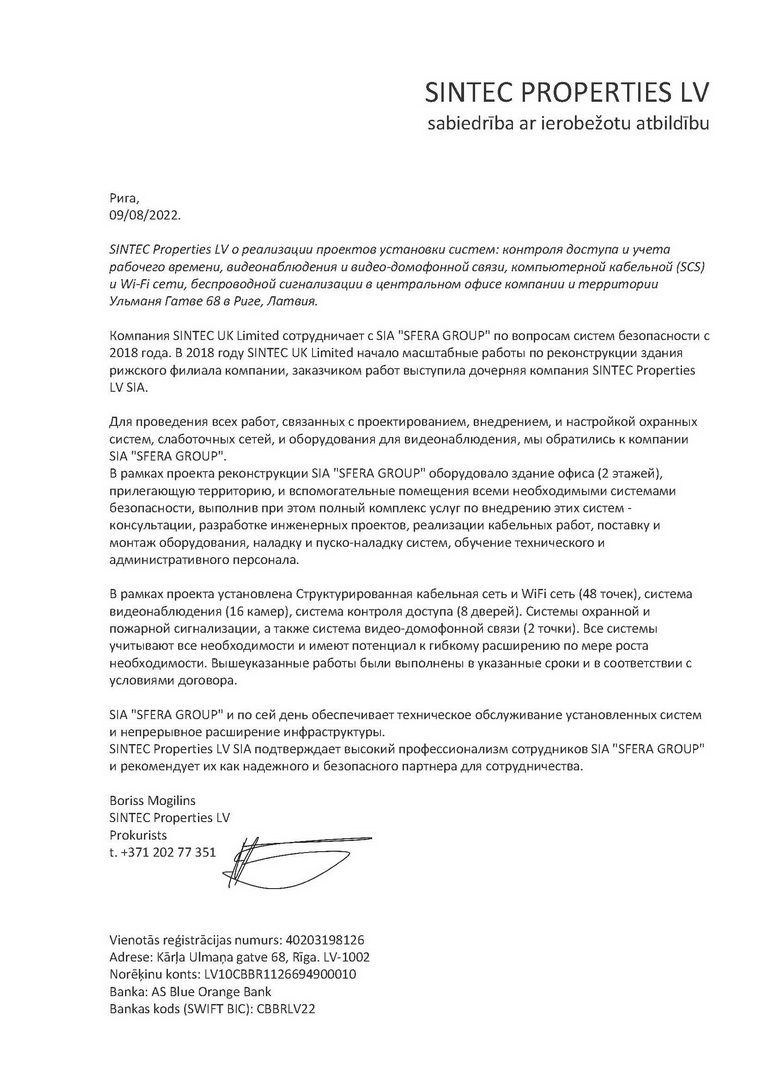 Customer's opinion:
"SIA "SFERA GROUP" to this day provides maintenance of installed systems and continuous expansion of infrastructure. SINTEC Properties LV SIA confirms the high professionalism of the employees of SIA "SFERA GROUP" and recommends them as a reliable and safe partner for cooperation," said "SINTEC EUROPE" procurator Boris Mogilin